A creative PR and link-building strategy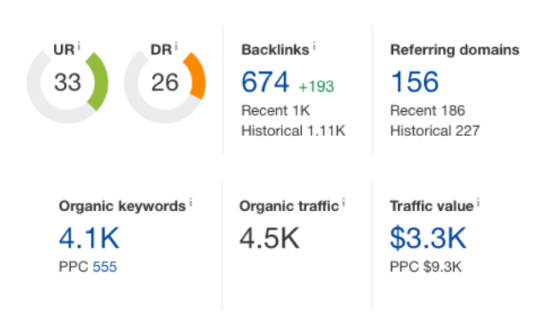 The Cliverse team have also been busy building natural, relevant backlinks and managing the client's PR. As a result, their general domain rating and site authority has increased exponentially and they have been featured on some of the top pet sites on the web, including animalwellnessmagazine.com and dogingtonpost.com.
In addition to all of this, Cliverse are slowly working on their local SEO to grow each individual location.
Optimizing on-site Technical SEO
Cliverse's SEO experts have also focused on improving the client's site speed. In April, the team's work saw it increase from 58 to 86, and in October, it rose from Mobile: 33 and Desktop: 74, to Mobile: 63 and Desktop: 96.
The team also resolved some sitemap and blog post indexation issues in August that saw traffic skyrocket as a result. Prior to this, the team had performed thorough keyword research – for all their primary and secondary keywords – assigned them to the homepage, as well as others, and implemented them.
The Cliverse team has been working diligently on Canonicals, Meta titles, Meta descriptions, and Image Alt Tags monthly, too, as part of a regular checkup.