Their Challenge
The Litter-Robot is a top-of-the-line product that costs 30-50 times the amount customers typically spend on a litter box. Before they can buy, customers need to learn how this investment is worthwhile. This is why education is a vital part of any Litter-Robot marketing plan.
Our Approach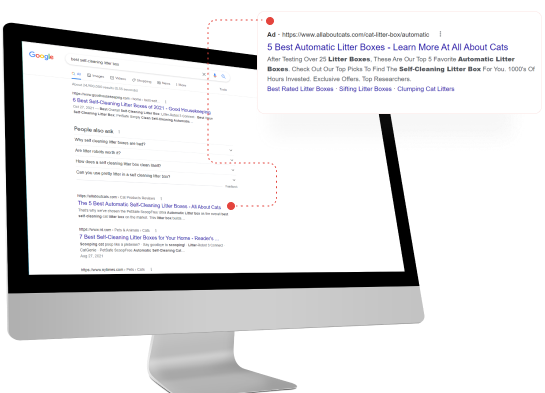 In order to achieve the company's goals of education, awareness, and sales, Cliverse developed a content marketing strategy that would familiarize users with the Litter-Robot, increasing awareness and helping them to understand the benefits of the product.
Our marketing team identified appropriate keyword groups and developed ad campaigns that would target users interested in relevant terms like «best automatic litter box» and «best self-cleaning litter box».
By sending users to educational review pages on a trusted site, we helped them understand the benefits of the product and how it was rated compared to the competition.
These display ads drove users to our chosen pages, including a custom landing page highlighting the Litter-Robot in a review format.
Knowing that genuine reviews are among the most powerful modes of connection with our audience of highly conscientious cat guardians, our content team also developed a series of videos to help customers understand the product.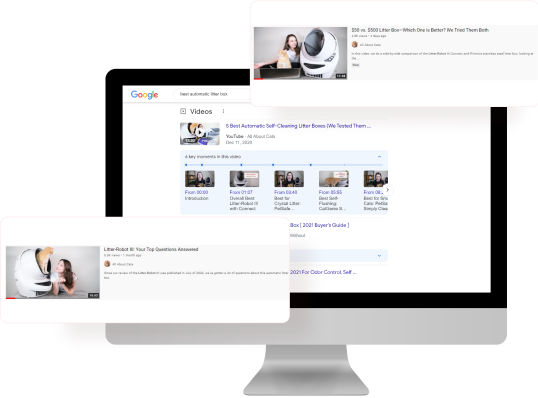 This video content marketing plan included pieces answering common questions about the Litter-Robot, including comparisons to competitor products.
As a trusted source of information on cat products and care, All About Cats has seen excellent engagement and feedback from these videos. The comment section of each video becomes a social proof asset of its own, with hundreds of people discussing their experiences with the Litter-Robot.
After one month, this holistic performance marketing campaign had generated a considerable return on ad spend and reached over 50,000 new viewers.
After several months of ongoing marketing, Cliverse has continued to work with Whisker on ongoing feedback and strategy to develop new content and refine marketing campaigns.
The content team actively participates in community discussions in the YouTube and website comment sections and keeps all content fresh to reflect changes in product design, price, and more.
With regular communication, updates, and continuous improvement, Whisker sees Cliverse as a long-term partner in its customer education and sales strategy.